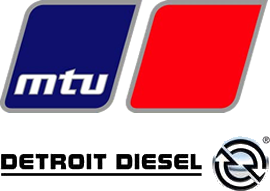 MTU Detroit Diesel provides individual products and services as well as complete power systems. The company manufactures individual medium-speed and high-speed diesel and gas engines and energy systems. It also offers complete power solutions for applications ranging from standby power to mission critical services.
Their products offer power for the Healthcare, Data Center, Airport, Building, Energy, Utilities, Power, Travel, Manufacturing, Agricultural, Waste Management, Government, and Rental industries.
Products are available in outputs up to 3,250 kW for diesel generator sets, 2,500 kW for gas cogeneration systems and 50,000 kW for turbines.
MTU DETROIT DIESEL GENERATOR SETS
The company offers products in multiple fuel sources, including diesel, gas and gas turbines, with varying kilowatts, and as generator sets, power modules, engines and accessories.
Industrial Diesel Generator Sets
MTU's generator sets offer customers a product with low fuel consumption, low emissions, and long service intervals. The Generator Sets are available from IMP in 50 Hz and 60 Hz configurations with power outputs from 600 kW to 3,250 kW.
MTU 1600 DS
MTU 12V1600 DS550

MTU DETROIT DIESEL GENERATOR SETS
MTU's gas generator sets offer natural gas gen sets with electrical output ranges from 1,012 kW to 2,530 kW. The products are designed to offer the highest performance, while maximizing fuel efficiency and maintaining low emissions ratings.
MTU 8V4000 GS

MTU 8V4000 GS

MTU 16V4000 GS

MTU 16V4000 GS

MTU DETROIT DIESEL ENGINES
The engines offered by MTU Detroit Diesel include diesel engines for main propulsion, diesel electric drives, and for power generation. The products are offered for use the agriculture, construction, industrial, marine, mining, oil and gas, rail, and vehicle market segments.
Industrial and Marine Engines
MTU Detroit Diesel MBE 4000
MTU Detroit Diesel Series 50
MTU Detroit Diesel MBE 900
MTU Series Marine
MTU 12V 4000
MTU 12V 4000 Marine
MTU 16V 4000
MTU 16V 4000 Marine
MTU 20V 4000
MTU 20V 4000 Marine
MTU 20V 8000 Marine
MTU PDU300C
MTU PDU325C
MTU PDU350C
MTU PDU375C
MTU PDU400C
MTU 8V 396 Marine
MTU 12V 396 Marine
MTU 16V 396 Marine
MTU 12V 1136 Marine
MTU 16V 1136 Marine
MTU PDU425C
MTU PDU450C
MTU 4R 1000
MTU 6R 1000
MTU 6R 1100 C30
MTU 6R 1300
MTU 6R 1500 C30