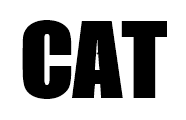 Caterpillar manufactures construction and mining equipment, diesel and natural gas engines, industrial gas turbines, diesel-electric locomotives, and power generation systems. The products manufactured by CAT are offered through their distinctive brands that include MaK, MWM, Olympian, Perkins, and Solar Turbines.
CAT's brands offer power equipment designed expressly for use in the Electric Power Generation, Industrial, Marine, and Oil & Gas industries. The power products CAT supplies deliver outputs ranging from 5 kW to 16,000 kW, operate on Diesel, Natural Gas, or HFO, and are available for use in either land or marine environments. IMP supplies the CAT, MaK, and Solar brand generator sets, engines, and their accessories.
CATERPILLAR GENERATOR SETS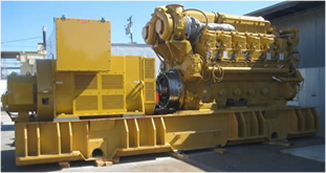 Caterpillar offers generator sets and power modules in multiple fuel sources and varying kilowatt outputs for both land-based and marine based applications. The gen sets are available in multiple fuel options and output ranges. They supply power to markets such agriculture, backup power, construction, drilling, marine, mining, gas compression, shipping, and every industry with a need for power.
The equipment manufactured by Caterpillar that is offered by IMP includes their CAT, MaK, and Solar brands. These brands supply power solutions with Prime, Continuous, or Standby applications, and are available in multiple Tier Ratings.
Industrial and Marine Diesel and HFO Generator Sets
Caterpillar offers Diesel and Heavy Fuel Oil generator sets powered by CAT engines. Designed for use in the worldwide marketplace, CAT's diesel gen sets are compliant with most country's environmental requirements. CAT offers a wide range of outputs, from 13 kW up to 17,460 kW under the Caterpillar name, with large-scale products marketed under the MaK brand.
Caterpillar Diesel/HFO Industrial and Marine Generator Sets
MaK Diesel/HFO Industrial and Marine Generator Sets
MaK 6CM20
MaK 8CM20
MaK 9CM20
MaK 6CM25
MaK 8CM25
MaK 9CM25
MaK 6CM32
MaK 8CM32v
MaK 8CM32
MaK 6CM43
MaK 7CM43
MaK 8CM3
MaK 16CM46
MaK M20C Marine
MaK M25C Marine
MaK M32C Marine
MaK M43C Marine
MaK VM32C Marine

Gas Generator Sets
Caterpillar's gas generator sets offer customers a unit powered by a Caterpillar engine that is able to burn multiple fuel types including landfill gas, bio-gas, pipeline natural gas, and field gas. Offered in ratings from 65 kW to 6,520 kW, CAT's gas generator sets are designed for maximum fuel efficiency and are compliant with most emission standards.
Caterpillar Gas Generator Sets
CATERPILLAR ENGINES
IMP offers Caterpillar engines to its clientele for use in the primary vertical markets of Marine, Mining, Oil & Gas, and Stand-By Power industries as well as in other industries with specific applications for Prime, Continuous, and Backup Power.
Caterpillar Diesel/HFO Industrial and Marine Engines
Caterpillar diesel engines utilize CAT's proprietary ACERT (Advanced Combustion Emissions Reduction Technology) emissions technology to provide engines with ratings from 10 hp to 6,600 hp. A principal market supplier, Caterpillar's diesel engines power boats, construction machinery, mining equipment, generator sets, ships, and other primary and standby applications.
MaK Diesel Engines
MaK M20C Marine
MaK M46DF Marine

MaK M25C Marine
MaK VM32C Marine

MaK M32C Marine
MaK VM43C Marine

MaK M43C Marine

Caterpillar Gas Engines
CAT gas engines include Industrial/OEM products designed specifically for use in marine, mining, oil & gas, and power generation applications. The fuels available include natural gas, field gas, propane, landfill gas, and digester gas, with ratings from 55 hp to 4,700 hp.