Azerbaijan's Growth and the Need for More Power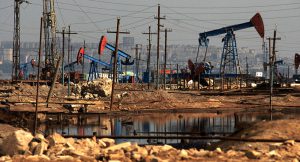 Over the past two decades, Azerbaijan's economy has grown by nearly 400%, and in no small part due to the quarter-trillion dollars invested in the country.  Of those investments, more than a third were earmarked for the Oil & Gas sector.  O&G is certainly not the only growth industry in the country, but given the domestic LNG deposits, the next 20 years is projected to see a production increase by more than 2 times current yields.
Throughout the region, numerous Engineering, Procurement, Management (EPC) companies have been working hard to expand in the O&G vertical, and to continue growing the local economy with oil, petroleum products, natural gas, and plastic wares exports to neighbors in the region such as Georgia and Turkey.  With that, Industrial Motor Power was recruited by a local firm to locate 4 megawatts of continuous power utilizing the abundant local natural gas.
CAT G3520C Industrial Generators (2 units)
4MW of continuous power were needed by an Azerbaijan EPC and IMP was enlisted to assist. The client requested brand new equipment with a limited budget and a strict deadline. IMP had two surplus G3520C generators in inventory which met all required specifications and was able to deliver the units ahead of schedule.
The Caterpillar G3520C, comprised of the G3520 engine along with a CAT SR4B generator,  is a remarkable power plant that has an electrical efficiency of 40.4%.  Its open combustion chamber can operate as low as 1.5 psi (10.3kPa).  And thinking toward the future, this model was specifically designed to fulfill the needs for distributed generation while decreasing greenhouse gas emissions.  Certainly no small piece of iron, the complete G3520C generator set is 251 inches in length, 79 wide, and 92 tall, and boasts a dry weight of 37,959 pounds.  It's capable of running on natural gas, biogas, and coal gas.