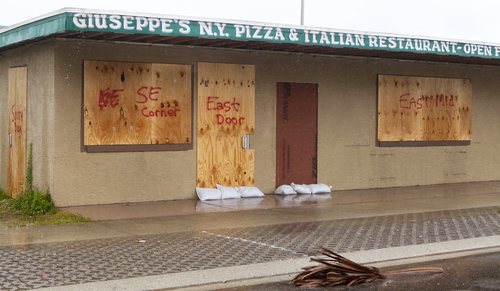 Los Angeles, CA – (August 25, 2017) – As Hurricane Harvey makes landfall, Industrial Motor Power and its subsidiaries, Rental Power Solutions and IMP Latin America, have pooled their fleets of portable power modules for immediate delivery to clients in Texas and Louisiana.  "We're prepared for immediate and emergency deliveries," says IMP Latin America's Managing Director, Saul Medina.
Hurricane Harvey has started hitting the Texas coast with storm-surge flooding and 35 inches of rain a near certainty according to the National Hurricane Center.  The forecast is so severe that much of South Texas may be left "uninhabitable for weeks or months" says the National Weather Service in Houston.  The last time this type of alarming language was used was ahead of 2005's Hurricane Katrina which left countless businesses with no option but to close their doors, and tragically, more than 1,800 people dead.
"Obviously, to all of our friends and associates in Harvey's direct path, we just want them to stay safe," says IMP's CEO, Nicholas Nadjarian, "but for those outside of evacuation zones, we're making sure that IMP can quickly deploy emergency power solutions to assist with any of our clients' immediate needs."
According to the Federal Emergency Management Agency (FEMA), as much as 80% of companies that don't have continuity plans in place for hurricane emergencies will go out of business, and for most companies, emergency/backup power is the first line of defense against shuttering their doors.
IMP has portable power options from 20-2,000 kW available for immediate delivery.  Contact IMP at our Los Angeles headquarters at (800)965-0994, or our Miami office at (305)885-9885.  Electronic-mail can be sent to sales@impcorporation.com or sales@implatinamerica.com.